BACALAR, THE LAST HIDDEN GEM IN THE MEXICAN CARIBBEAN
Bacalar, Mexico is located in the "Mayan Zone" of Quintana Roo just 2 hours south of Tulum.

Known for its spectacular "Lagoon of the Seven Colors", it is also recognized as one of the 121 Magical Towns of Mexico. With a population of just 35,000, it is the perfect place to escape the crowds and enjoy natural surroundings that will steal a breath. Keep reading and you will discover everything that Bacalar has for you.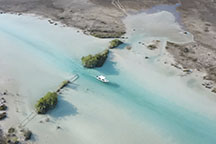 The lagoon offers many activities, from watching the sunrise on paddle boards to full-day tours with food and drinks included. Visit the famous pirate channel, the island of the birds and the stromatolite sanctuary among the most paradisiacal places in the city. The tranquility that the town transmits is unmatched in other destinations in the Mexican Caribbean. Without a doubt it is the perfect place to visit if you are a lover of tranquility, nature, adventure and photography.
Not everything is a lagoon! In the surroundings of Bacalar you can find archaeological sites, Mayan communities, spas and the border with Belize where you can go shopping or play in the free zone casinos. Whatever you like the most, you will surely find things to do during your stay in Bacalar.

In this blog we will recommend lagoon care practices as well as the best restaurants, hotels, activities and events. Come to Bacalar!